Paperwork Organization: 7 Simple Tips To Help Manage It
Let's talk about the dreaded p-word: paperwork. Maybe paperwork is your thing, but personally I'm not a fan. Truthfully, when I see a giant stack of paperwork it makes me want to run away…at the very least I'm tempted to procrastinate.
Paperwork is totally necessary & I get that. So, since I can't avoid dealing with paperwork I deal with it efficiently. The goal is to be effective in getting it done on time and with as little stress as possible.
In an effort to help you save time on the dreaded p-word (paperwork) I want to share seven simple tips.

First of all, designate a spot for all of the paperwork. Because, if you don't have a designated spot it's going to end up as a huge pile that takes over your desk. Been there. Done that. Got the t-shirt.
That giant pile just doesn't do anything but make your life harder. So, go out and get yourself a paper organizer and I don't mean a cute little desk organizer. No, teachers have too much paperwork for those things! Get yourself a scrapbook paper tower. If it has wheels that's even better. You can pull that sucker over to where you're working or push it out of the way.
Figure out what categories you need and label each shelve. Although I always prefer to sort paperwork as it comes in, that doesn't always happen. So, I suggest putting a tub on top of the paper sorter for papers that need sorted.
Next, you're going to need a routine. Find one to three times a day when you can check your mailbox. I'd love to say just do it once, but when I was in the classroom we were expected to check it at least three times: morning, planning, and after school. So, whatever the case is in your situation, just develop a routine.
When you get back to your room take 30 seconds and sort it. You don't have to deal with everything in your mailbox right away, but if you sort it into categories you'll know that anything that is urgent won't get missed. There's nothing worse than finding an urgent note you didn't know about in time because you just set it on that giant paperwork pile on your desk and forgot about it.

Have a system for getting paperwork home. Some schools use the weekly folder, which is great for things like returning work and sending, PTA notes, and newsletters. But, you still need to have something that's checked EVERY – SINGLE- DAY. It trains parents to check for notes and other time sensitive stuff each day.
Side note – If your kids stuff their own folders, watch them to make sure they put the papers in the folder. Otherwise you'll find things you thought went home squished up in the bottom of their desk, the bottom of their bag, or in other random places around the room.

You'll also want a system for filing important paperwork. You probably have a filing cabinet. If so, you're good to go.
Label hanging folders for categories like assessments, parent communication, school events, etc. and add regular folders for subcategories. Using categories and subcategories makes it easier to find things when you need them.
Use student numbers instead of names on your folders and you can reuse them next year. Otherwise, use an erasable pen or a pencil so you can reuse the folders.
Delegate out simple paperwork like copying. If you've got help, use it! Parent volunteers are huge time savers with things like running copies, stuffing weekly folders (just add any confidential papers after they add the non-confidential stuff like newsletters and PTA notes), laminating, and cutting out lamination.
If you use parent volunteers for copying I suggest going in with your grade level team and setting up a sign up form and a calendar. Give each parent volunteers one day a week or one day every other week that they are responsible for. Set up a crate with hanging folders labeled Monday through Friday and a hanging folder for each teacher. When you have something to copy, paperclip an instruction sheet to your original and put it in the folder for a day that's several days ahead of when you actually need it.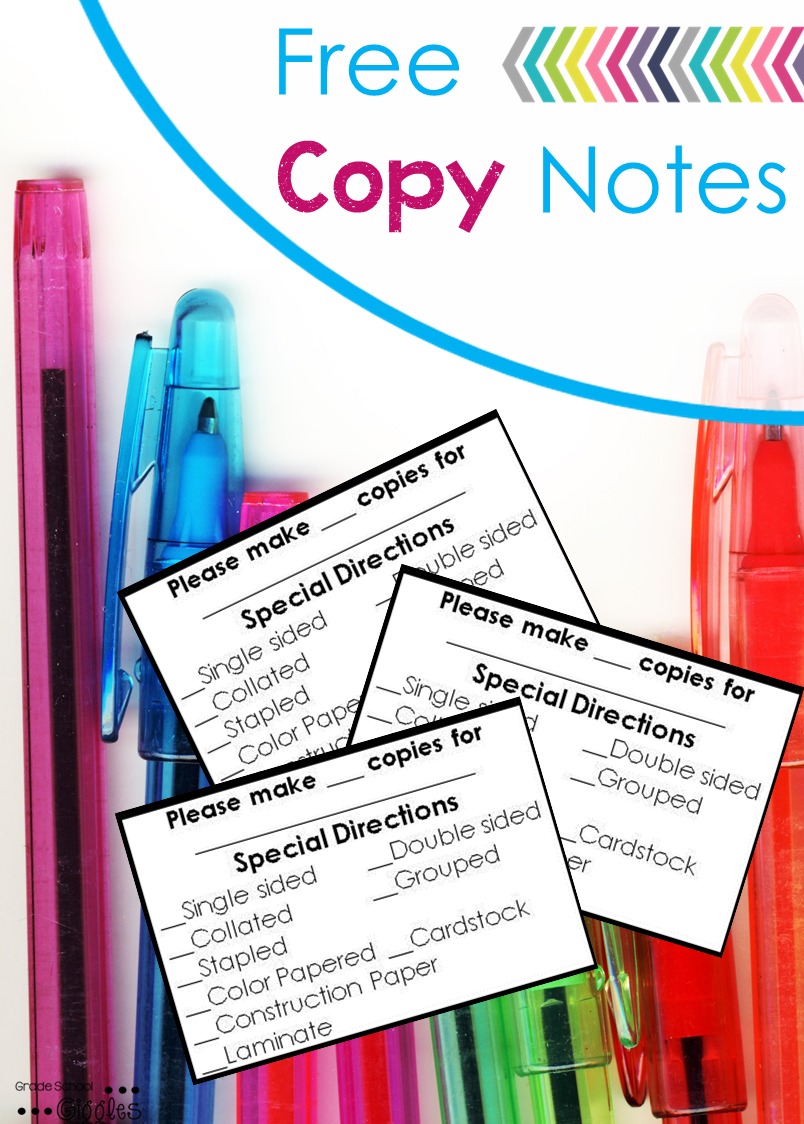 When parents come to run copies they should copy everything in that day's folder. For example, if a parent is copying on Monday they would copy everything in Monday's folder. Then, they put the copies in each teacher's folder for the teachers to pick up after school.
If a parent volunteer is a no show everything in that day's folder just gets added to the next day's one. As long as you plan ahead it will reduce the time you spend on copying stuff a lot. Just be sure to check each day that you've got everything ready for the next day.
Speaking of planning ahead, it's a good idea to prepare for the unexpected. Creating a good substitute binder with emergency lesson plans is so helpful when life happens. You can always include detailed lesson plans when you have a planned absence like a training, but you won't have to when an emergency happens. When you wake up sick as a dog, you definitely don't want to be doing paperwork!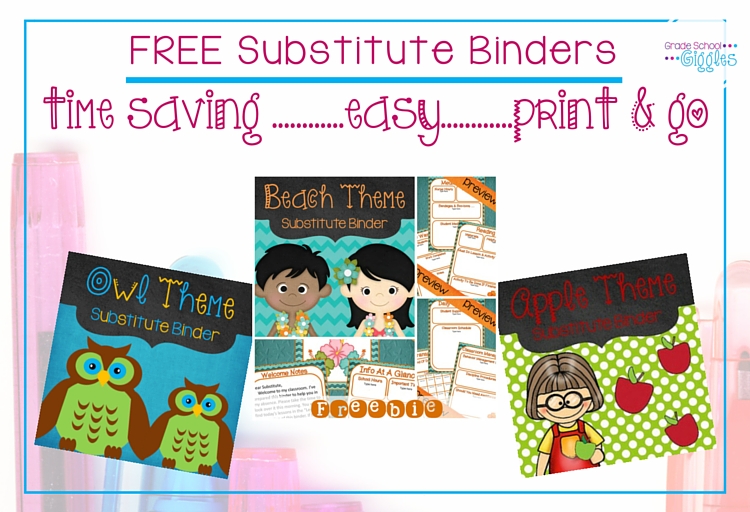 These free sub binders (owl, beach, or apple) will walk you through creating a thorough everything you'll need to include. Add copies for several activities behind each subject in case an emergency comes up when you can't add more specific plans. There's peace of mind that comes with knowing you are prepared for an unexpected sub even if you never need to miss a day.
Simplify whenever you can. Consider using technology wherever it's helpful. Technology can simplify data collection, parent communication, and file storage.
Google forms make data collection easy and will even create a spreadsheet for you.
Set up a computer during open house with a Google questionnaire on it. Parents can fill out their contact information and you'll automatically get a spreadsheet with all of classroom contact information organized and ready to use. You can even ask them to check if they want to share their info in a class directory or volunteer in the classroom at the same time.
Apps like Remind allow you to send text messages to your parents without sharing your phone number with everybody. A classroom blog, webpage, or email list can make it simple to share updates and reminders instantly.
(Side note – List parent email addresses as BCC in group emails to avoid accidentally sharing people's emails with everyone.)
Whatever tools you use, just figure out what's simplest for you and build your routine around it.
Next week I'll be talking about ways to organize your classroom instruction. In the meantime, I'll be sharing some great resources like cheat sheets and checklists in my newsletter. So, go ahead and sign up if you'd like some help with saving time and getting organized for the school year. The very first thing you'll get is my parent communication kit.
[yikes-mailchimp form="1″] For those of you who are visual like me, Pinterest is the place to be. You can check out my latest classroom organization pins right here.
Still looking for more? You might also like…
5 Ways You Can Spend Less Time Grading
6 Things To Do Today To Be An Organized Teacher
Free Goodies for Y-O-U!
Get the newsletter & score this FREE positive parent communication kit along with the best freebies, tips, and resources from Grade School Giggles.