How to Reward Your Class Almost for Free
I could hear her counting up each addition problem from across the room – my new student. She was eager, bright eyed, and bounced right out of her chair more times than I could count.
She had just transfered in from another district. Her file arrived along with her. Since she had an IEP, I immediately reviewed it.
My eyes widened. My heart broke. And, my cheeks reddened with anger as I read the one solitary line under student strengths.
"There are none."
N-O-T possible!
EVERY child is special. EVERY child is unique. Every single child has some wonderful quality worth celebrating.
It's our job as teachers to help them discover and develop the strengths they don't even know they have.
Developing a classroom environment that encourages and celebrates each child's successes is just as important, if not more important, than creating a rigorous one.
There are so many easy ways to celebrate our students and our classrooms. It doesn't even need to cost you a penny to do it.
Award certificates are another great way to recognize your students' hard work.
Kids love them.
They're easy.
Kids can show them off.
Parents notice them.
I like to give award certificates a the end of the semester, the year, or really any old time the kids do something awesome.
But, let's be real. Buying packs of awards at the store adds up quickly and thinking of enough awards to give everyone something that fits them and then making the awards is time consuming. #NoTimeforThat!
That's why I created this pack of student awards. Print them on colored paper and add the names. That's it.
Plus, with nearly 100 awards there is something positive for everyone. #EveryChildIsSpecial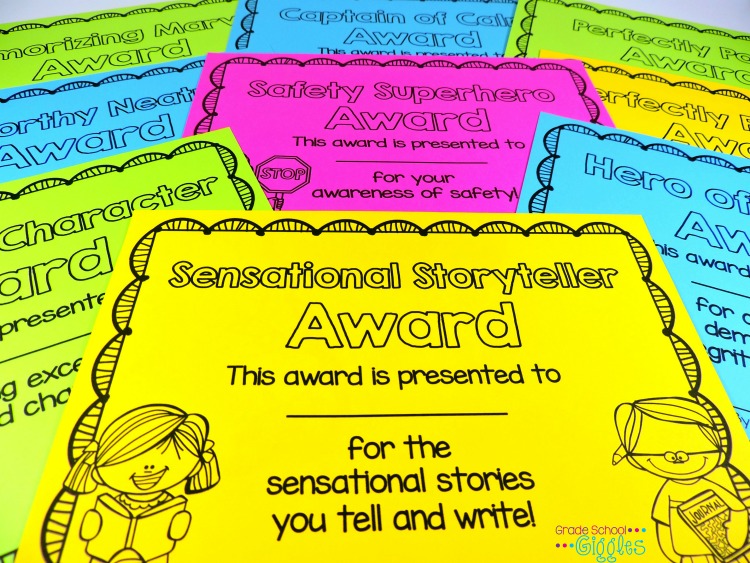 While we always want to encourage each individual student, it's also important to have classroom wide goals and reward teamwork. Classroom, rewards encourage a team spirit and encourage students to support one another.
However you recognize your student, please remember when it comes to celebrating our students' positive qualities, "There are none" is never an option.
EVERY child is special. Every child is unique. And, every single child has some wonderful quality worth celebrating.
Free Goodies for Y-O-U!
Get the newsletter & score this FREE positive parent communication kit along with the best freebies, tips, and resources from Grade School Giggles.