How to Make Social Studies Interesting
If you're an elementary school teacher, there's a good chance you're familiar with the social studies struggle. It can be hard to teach the standards, make social studies interesting, and keep your students engaged.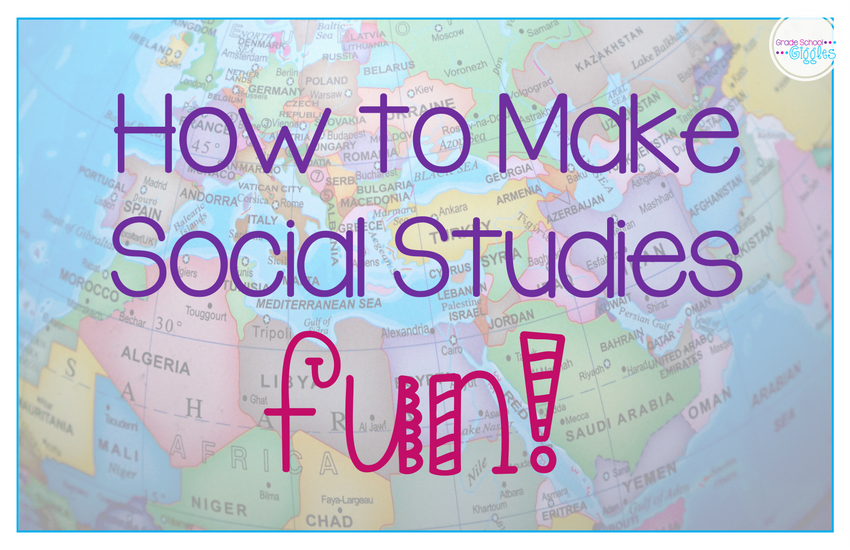 This post contains affiliate links.
Some of my history classes back in the day were D-U-L-L.
Read, memorize, repeat. Names, dates, facts.
Seriously, people were falling asleep. People were drooling. Eww! No teacher wants that.But Y'all, social studies matters. Our kids need to know this stuff. So, how can we move from textbook and lecture-based lessons to ones that will actually engage our students? How can we make social studies interesting?
Well, I don't know about you, but I love traveling, living museums capture my attention, and curling up on the couch with a good historical fiction novel is my favorite way to spend a rainy day. They're awesome because they provide the opportunity to become immersed in another culture, place, or time.
A great social studies lessons can do that too. Go beyond reading and memorizing. Immerse your kiddos in the content and get them in interacting with the content.
Stepping away from textbook and lecture-based lessons can totally change your students' attitudes toward social studies.
So maybe you can't actually hop on a jet and take your students around the world, but you can take a virtual field trip or even just show them the sights with projected photos. YouTube can be a great source for virtual field trips. (Just make sure to preview them so you don't end up showing more than you bargained for . #YouKnowWhatIMean)
National Geographic Kids is another awesome source. They have pretty amazing photos and kid safe information too.
Another great way to help your students see the big picture is to break out some reference tools like maps, globes, atlases, and timelines.They are a great way to build connections. Use timelines to connect events across different places. Teach some basic map skills. Look at different types of maps like political maps, physical maps, and thematic maps. Make it hands-on by making salt dough maps or even edible ones. #MapActivities
Branch out your reading material. Incorporate historical fiction and biographies. Explore primary sources such as journals, comics, and political pamphlets.
Check out these sources to find reading material.
Libraries
Travel agencies
Tourist bureaus
Travel guides
Teachers Pay Teachers can be a convenient source for printable passages. Mini books are one of my favorites because they encourage kids to engage with the text.

Try out some fun activities to make social studies interesting.
Planning a vacation in a region including famous landmarks
Make an edible map showing the geographic features of a region
Make a comic strip showing historical events
Have partners read about different historical figures. Make puppets and have them "interview" each other about the major historical events in their time period.
Play a board game

Hold an exciting event.
Try a living wax museum.
Have a class festival. Try regional foods. Listen to some of the music and learn a dance or game.
Invite a reenactor to class, take a field trip, or maybe even schedule a Skype session with an expert.
Bring in some artifacts.
Some museums let teachers check out collections of topic-related resources to use in the classroom. See what's available in your area.
Ask around for some foreign change. Try doing some coin rubbings with your class.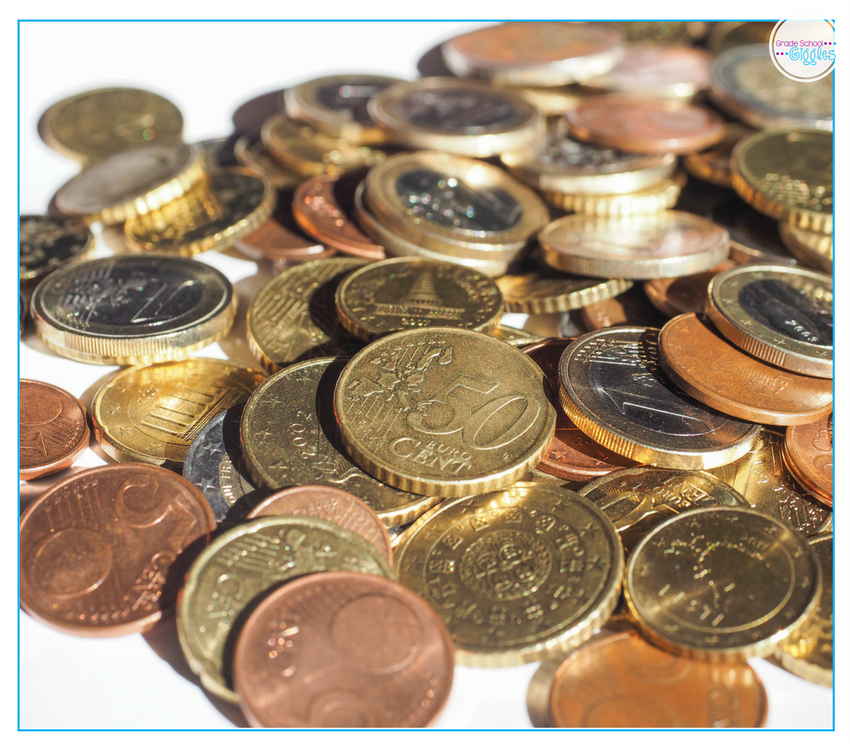 There's really no reason for social studies to be known as a boring subject. There are so many ways to get students engaged in hands-on lessons. Just trying a few new activities can totally change your students' attitudes toward social studies. Leave a comment with your favorite way to make social studies fun.
Click here or on the image below to download a list of 32 activities to make social studies fun!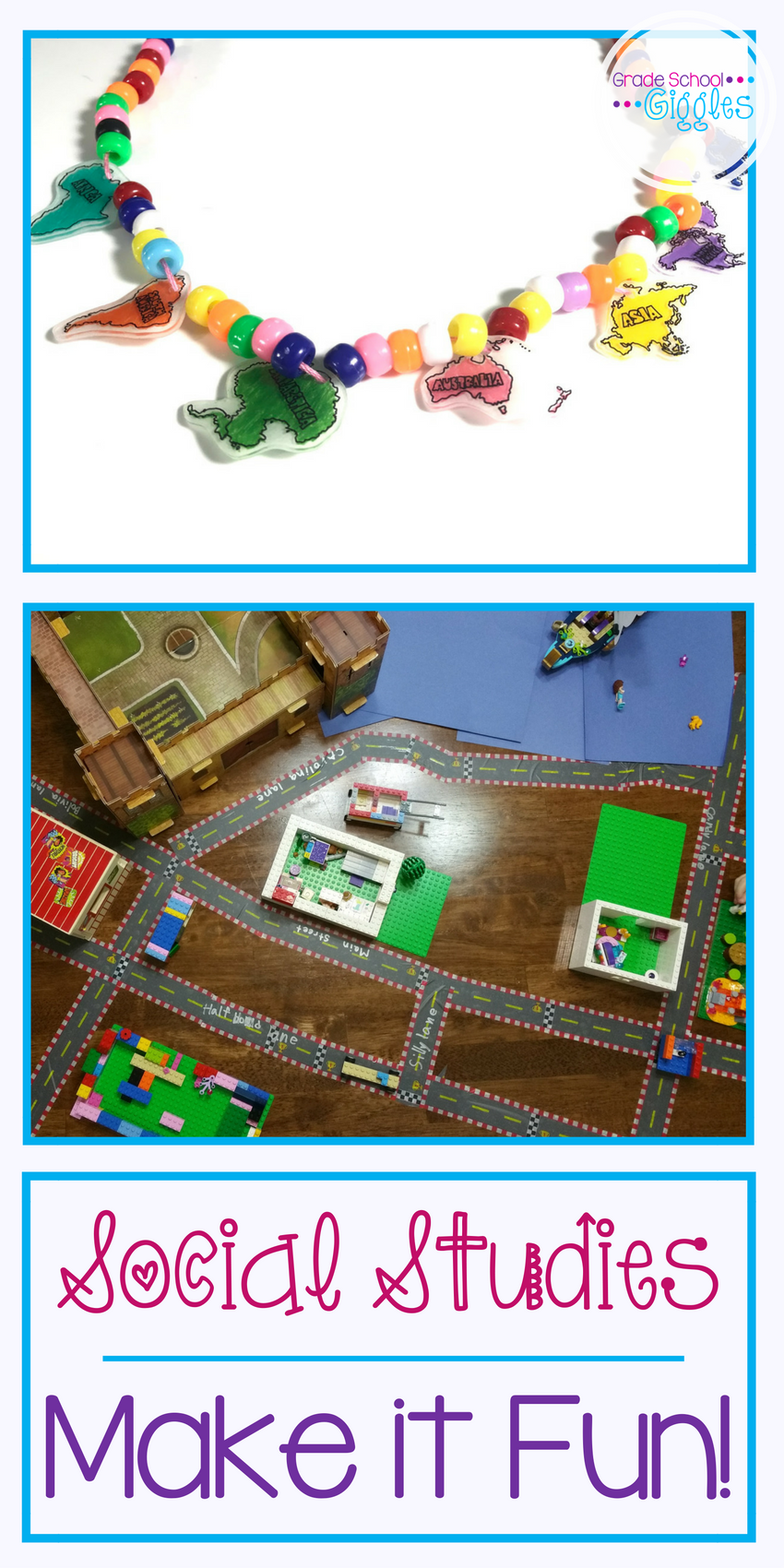 Free Goodies for Y-O-U!
Get the newsletter & score this FREE positive parent communication kit along with the best freebies, tips, and resources from Grade School Giggles.