How to Have a Relaxing Sick Day When You Teach
As I strolled past the front office it hit me like a brick wall. The overwhelming aroma of breakfast for several hundred cooking in the cafeteria was more than my heavily pregnant stomach was prepared for. Half running, half waddling, I rushed past the cafeteria without slowing to greet my fellow teachers in the hall.
Opening the door to my room relief flooded through me as I spotted the trash can by my desk. Lurching towards it I realized it was inevitable.
Unfortunately, taking a sick day was not avoidable.
With heat creeping up from my neck to my now beet red cheeks I pushed the call button.
"I'm going to need a sub today…and a janitor. ASAP, please … Sorry."
A few minutes later the janitor and I were busy at work throwing out every single piece of paper on my desk. My plans for the day and all of my prepped materials went into the now rancid trash can. The desk was scrubbed with the awful smelling, district issued bottle of cleaner that matched the developing color of my face.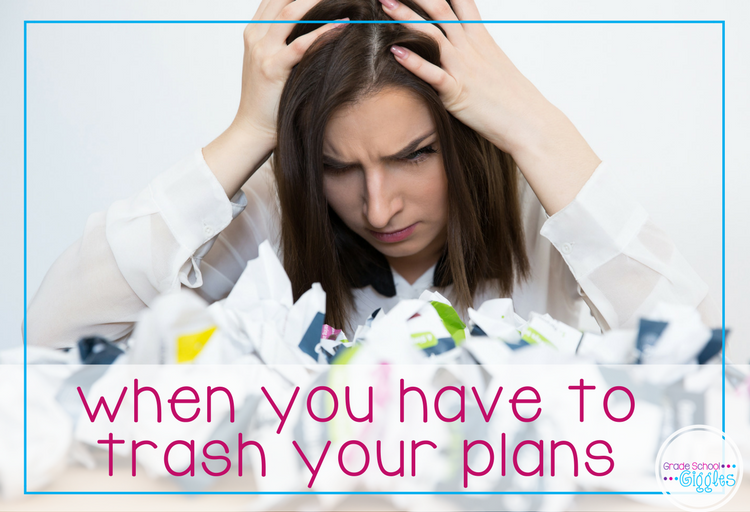 By this point, I was near the point of panic.
Anticipating the arrival of my students, I prayed the sub would arrive before the kids. Sub plans….I needed sub plans. Like now! Students would be arriving any moment.
It hit me. I had planned for a moment like this. There sitting on the shelf was my saving grace – my sub binder. About then my new best friend, my substitute, walked in. Grabbing a plastic bag for the ride home I hurried out of the building.
I hadn't planned to be out that day and staying to write sub plans would have been a disaster, to say the least. Life happens and we rarely get advanced notice of emergencies. That's why every teacher should have a sub binder and a sub tub ready. Writing sub plans should not be a part of taking a sick day…at least not an on the floor sick as a dog day.
Prepping a sub binder lets you focus on the most important thing.
A good substitute binder paired with a sub tub will make it possible to focus on GETTING BETTER.
I've made three sub binders to help you get started. Best of all, they are FREE and they're editable. Click on the theme you want.
If none of those themes is your thing or you want it to match your classroom theme, no worries. There's an editable sub binder is each of my classroom theme packs too.
With a binder theme picked, you can customize each page with all of the information a sub could need. You might choose to add some additional stuff or take out some pages. Perfect! Make it yours.
This is what I like to include.
Welcome Notes
Welcome your sub with a quick explanation of the binder. Give them a heads up on who can help in case the computer won't turn on, the pencil sharpener dies, or little Johnny decides to cut Kira's pigtail off in the middle of the cut and paste.
Info at a Glance
This is the place for general info a sub might need to know.
School hours
Important times like lunch, specials, and recess
Where to find important materials
Daily Schedule
Service times for support classes and push in services
The classroom schedule
Transportation
Sending a kid home the wrong way is every teacher's nightmare. Something so important leaves no room for error. Make this easy on your sub by giving them all of the information.
Everyone's normal transportation
Dismissal procedures
Classroom Management
You know the classroom management system you've been building all year long. Well, your sub can't follow it unless they know about it.
Behavior management system
Discipline procedures
Who can help if needed
Special Needs
Do you have kids on IEPs, 504 plans, or with other accommodations? If so, your sub NEEDS to know the key expectations. Give them a quick reference tool so they can know what's required. Use one box for each student with special needs and print extra pages if needed. Include documents the sub needs access to like a behavior plan you can behind this page.
Accommodations
Sensory Diets
Peer Buddies
Behavior Intervention Plans
Medical Info
Subs need to know about any important allergies or medical needs in the classroom. Don't forget to communicate these needs.
Allergies
Medications & times
Procedures for students with seizures, asthma, or diabetes
First aid supplies
Nurse hours
 Emergency Procedures
Hopefully, your sub will never encounter a code red, a tornado drill, or a lock down from an injured coyote roaming the campus. (Yes, we did have a code red for a coyote.) But it's best to be prepared. I like to tuck a copy of all of the school's emergency procedures in my sub binder.
How Was the Day?
Have you ever gotten back and had no clue what happened while you were out? This page is a way to encourage your sub to share what happened with you. Print a few copies or laminate one and let them use a dry erase marker.
Okay, so now you've covered all kinds of information a sub might need. But, we haven't talked about the lesson plans. Let's chat about them now.
You'll need these two types of lesson plans.
The first is for personal days, training days, and the time you were called for jury duty. When you know you'll be out in plenty of time it's best to write detailed sub plans to continue the lessons you're working on with your class. This is the section for those. Add them behind the divider.
On the other hand, sometimes the unexpected happens. Maybe you wake up sick, maybe your kid does, or maybe you get knocked out at recess when by a student throwing a football with a surprising amount of strength.
Yes, it truly did happen. I was notified of the emergency by an entire class of students pounding on the door outside my classroom. Another prime time for emergency sub plans. Anyways….
This is when you need a generic set of sub-plans.
Having a generic set of sub-plans can save the day in these situations. Go ahead and plan for several days. In a true emergency, you might be out for a little while.
For each subject plan, a must do activity to be done first and a can do activity in case extra time needs to be filled.
No prep activities like a mini-book or worksheets work well. Run copies for the first day and store them behind the directions. Add activities for additional days behind the copies. Use a sticky note to ask the sub to run copies for the next day so copies are always ready.
Plan a simple no prep activity for after the must do assignment is done. Things like reading, educational computer games, making posters, writing letters, etc. require no prep at all. Read alouds are an awesome option too.
Pairing it with a sub tub is the secret to success.
The sub binder pairs perfectly with a sub tub. A sub tub lets me add a few more items to make things easier for the sub. I like to add…
A BINGO game for extra time or an indoor recess day
A great read aloud book or two
Some rewards to pass out to excellent students
Some stickers or stamps to reward great work
Nurse notes
Of course, your preparation will only help if the sub can find it. So, be sure someone knows where you keep your sub tub. Put a big old' label on it. Set it somewhere obvious.
Next time you're out you can tell the office to have the sub grab the tub and you can get back to getting well. No need to panic when you're turning green.
Go ahead, curl up under the covers, your sub plans are already done.
Do you ever wish  Y-O-U could be the A-M-A-Z-I-N-G teacher want to be and still HAVE TIME for your dream life outside of school too?
If so, I'd love to help by sharing the best classroom ideas, FANTASTIC FREEBIES, teaching inspiration, engaging activities, time-saving tips, organizational ideas, and ready to go resources with you.
Subscribe to the newsletter and you'll never miss out.
Free Goodies for Y-O-U!
Get the newsletter & score this FREE positive parent communication kit along with the best freebies, tips, and resources from Grade School Giggles.