How to Make an Easy 7 Continents Necklace with Your Kids
I don't know about you, but I like my learning with a side of fun. (Totally geeky and totally true)
Three of my favorite things are art, kids, and learning. This 7 continents necklace combines all three. For me, that makes it an awesome project. It's easy too! Keep reading and I'll tell you exactly how to make it.

This post includes affiliate links.
7 Continents Necklace Supplies
Colored pencils
A baking sheet
An oven
Scissors
Continents template
How to Make Your 7 Continents Necklace
As a kid, I used to love making Shrinky Dinks. Nowadays, it's my kid begging to make them, but to be honest I still love making them too. There's just something cool about watching them shrink.
The key to making this necklace super easy is to use the type of Shrinky Dinks paper that you can print on. Yes, you really can print straight on it. How cool!
Print a continents template and color it in. Remember to color on the rough side.
If you'd like to use my template, I'd love to send it to you. Just sign up and I'll send it right over.
Send Me The Printables
FREE printable template
Step by step directions
Cut the continents out and punch holes using the circles as your guide.
Bake them using the directions on the Shrinky Dinks package. (Turn the oven light on and watch those suckers shrink. It's like magic!) #BestPart!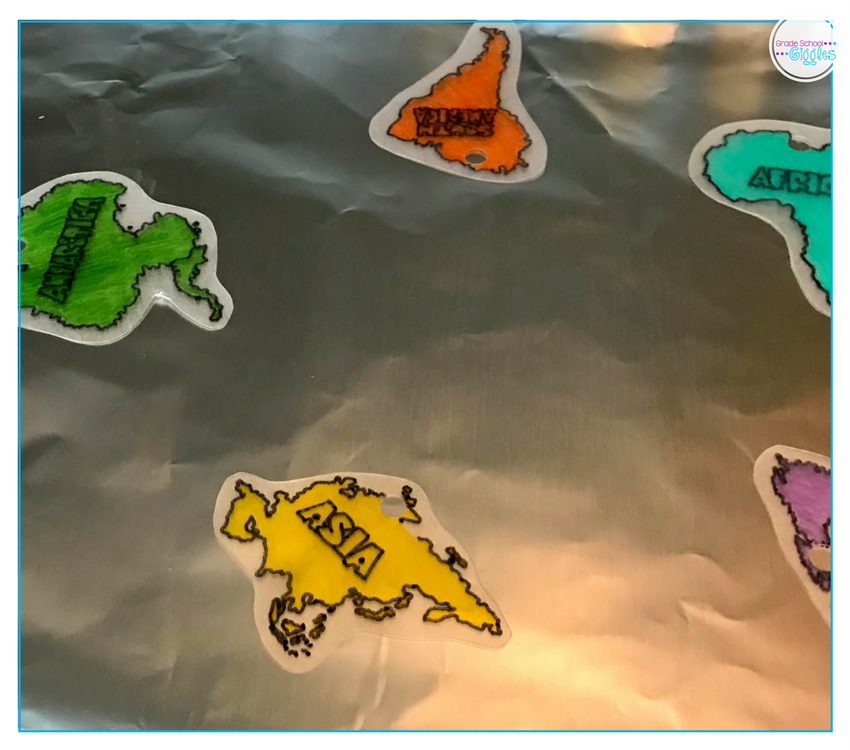 Measure out a length of string that will go around your head easily and add whatever beads you want to use along with the continent beads you made.
That's it! Wear that nifty necklace as you learn about the 7 continents.
5 More Ways to Learn About the 7 Continents
Okay, so the necklace is fun to make, but it's even better when it's tied into a lesson. One of my favorite ways to introduce and organize a topic is a mini book. Check out this one on the 7 continents. You can find it here.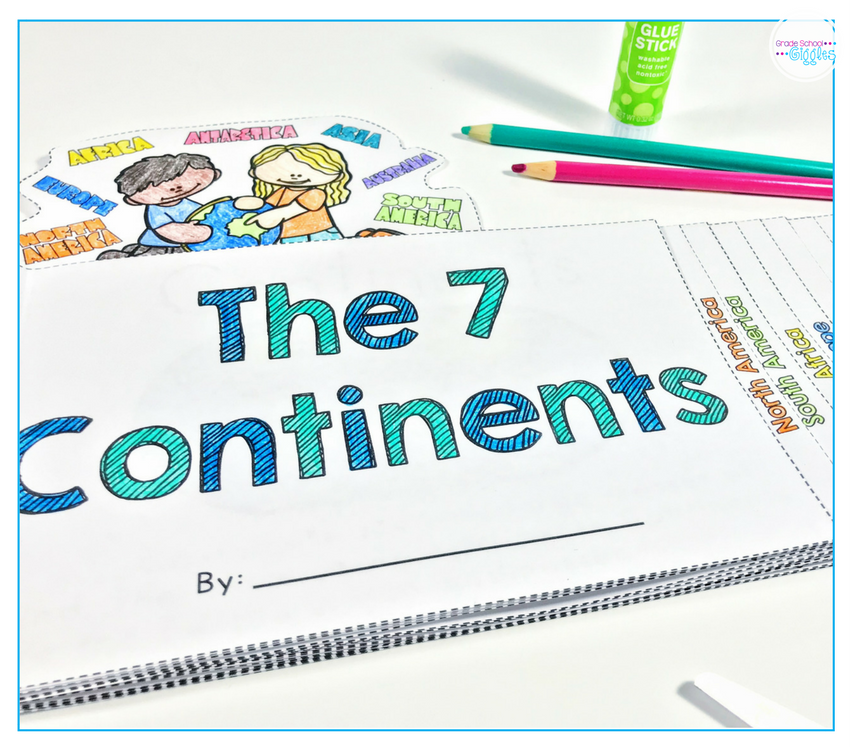 I'm also a huge fan of moving beyond a textbook and reading books too. These are some great ones.
Around my house, we are serious fans of reading. We regularly max out our library cards and the librarians know my kids' hobbies. These are some fun books for kids to read about continents.
Or maybe an activity book would add some fun to your lesson plan.

Plus, I found some really cool toys that look like a lot of fun to incorporate into centers.

However you teach it, kids need to know about the continents. Learning about the different parts of the world is fascinating and offers so many ways to get kids interested in world geography, cultures, and traveling. Figure out the activities that bring out your passions, what will inspire your students, and dive right in.
Free Goodies for Y-O-U!
Get the newsletter & score this FREE positive parent communication kit along with the best freebies, tips, and resources from Grade School Giggles.