Area and Perimeter: Hands on Lesson Ideas that are Fun!
My oldest daughter has been studying area and perimeter, which are actually two of my favorite math concepts to teach. They are easy topics to make fun and the manipulative options for them are wide open. Today we used LEGO® blocks for math. The kids loved it!
The first thing we did was preview important vocabulary words. I wrote each word on a sticky note and then Big Bit used the glossary in our math book to write a definition under it.
• Square unit
• Area
• Perimeter
• Plane figure
After the definitions were done, it was time to pull out the LEGO® blocks. Yeah! I had already pulled out a bunch of the square blocks, a base, and the fence pieces. The first direction was to build any solid rectangle and count how many squares it used. Once that was done, we talked about the rectangle as an array and wrote a multiplication fact to find the area. We noted that both methods got to the same answer, but multiplication was quicker.
Next, I gave her one of her favorite LEGO® people, a very girly elf to be exact, and had her make the elf walk around the perimeter. We talked about the fact that we counted squares (square units) when we were measuring area, but counted the sides of the blocks (units of lengths) to find the perimeter. To emphasize the concept, I had her build a fence around the perimeter of her rectangle.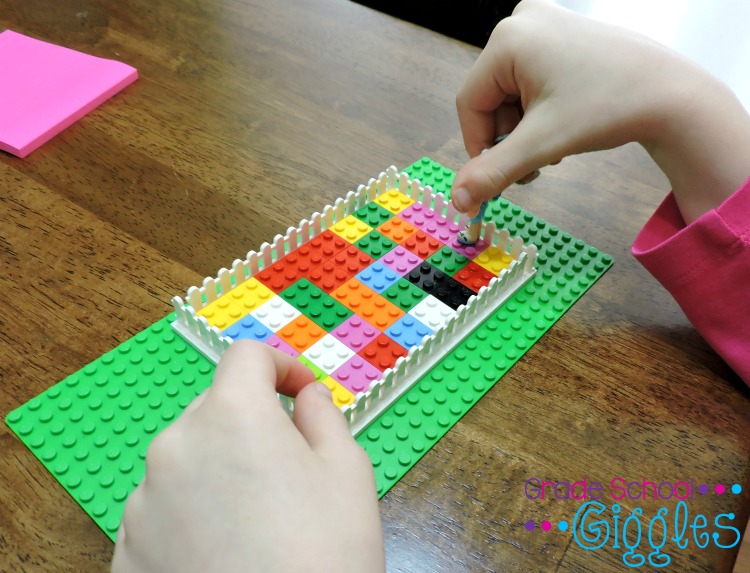 Once we had covered finding the area and perimeter of rectangles, we explored combining different rectangles and adding their areas together. We tried it three ways.
• Count all the squares in both rectangles together
• Count the squares in each rectangle and then add them together
• Multiply to find the are of each rectangle and then add the products
Of course all three methods gave us the same answer, but I wanted the kids to see that for themselves.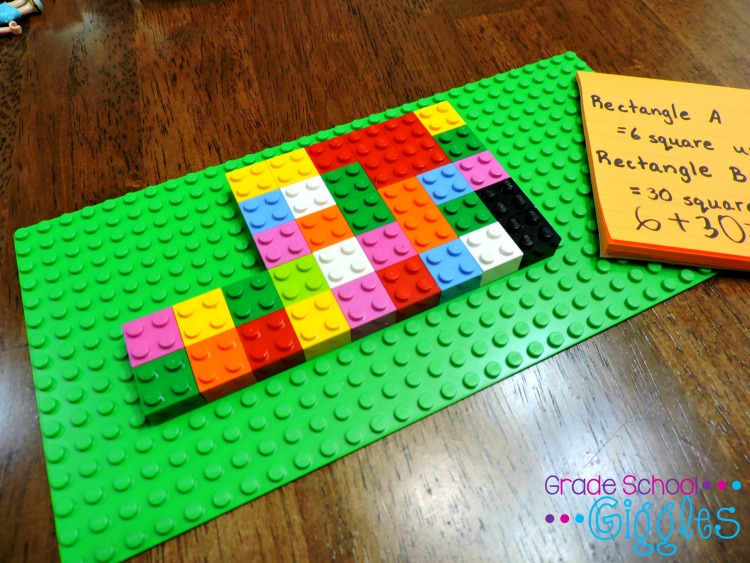 Finally, I wanted to cover tiling shapes and finding the area of shapes that included halves of square units. For this activity we moved from LEGOS® to sticky notes. I gave Big Bit a big piece of construction paper with an outline on it. I also gave her scissors and a pack of sticky notes. I told her each sticky note was one square unit and asked her to figure out the area of the figure I had drawn. After playing around with the sticky notes for a little bit she figured out that she would need to cut some of them in half. Once she figured that out, it was easy to tile it with sticky notes to figure out the area. After all that hands on practice her workbook pages were a breeze!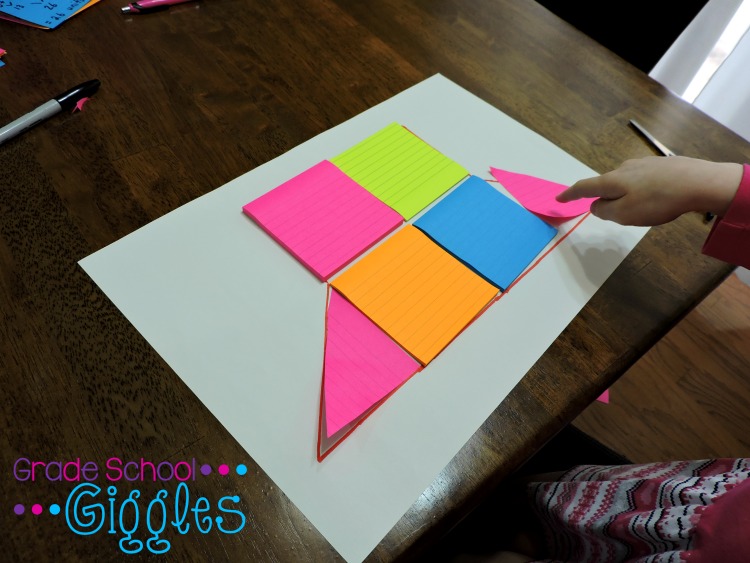 It's always great when I can find ways to make our lessons fun and really get the kids engaged in their learning. I love collecting ideas for awesome activities through Pinterest. If you'd like more ideas for math please check out my board on Pinterest.
Follow Grade School Giggles's board Math on Pinterest.
Still want more? Check out Mrs. Will's linky below for more hands on math ideas.  Just click the button.
Free Goodies for Y-O-U!
Get the newsletter & score this FREE positive parent communication kit along with the best freebies, tips, and resources from Grade School Giggles.